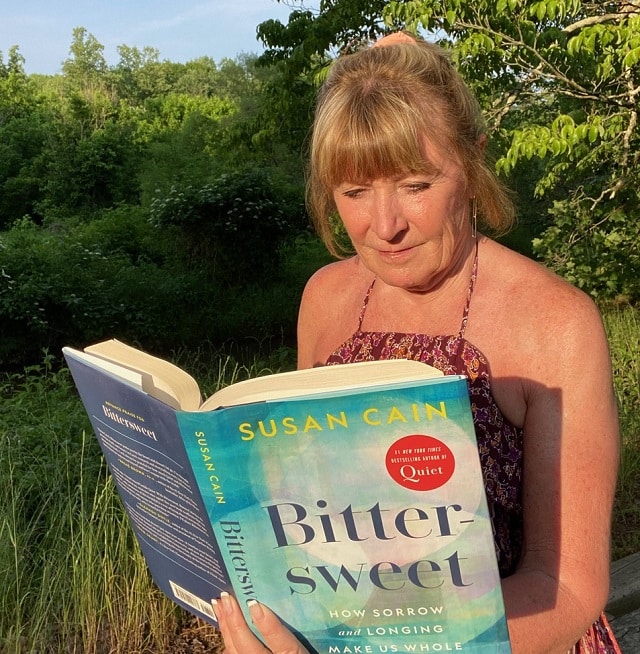 OK, so the photo is admittedly a bit "staged".  But it WAS taken while reading this special book, ʙɪᴛᴛᴇʀꜱᴡᴇᴇᴛ, while in Reynolda Village Gardens one evening while I was on a work from anywhere experience in Winston-Salem, NC.  Such a glorious place to sink into a rich book.
It was a beautiful peaceful park with a great restaurant, 𝒯𝒽𝑒 𝒱𝒾𝓁𝓁𝒶𝑔𝑒 𝒯𝒶𝓋𝑒𝓇𝓃, where I enjoyed a catch-up dinner with a dear friend & coaching colleague on the patio literally in the middle of a thunder storm!
But, back to the topic at-hand.
Which is– this book, ʙɪᴛᴛᴇʀꜱᴡᴇᴇᴛ. And some aspects of my nature that you may not know if you don't know me well and all you see are smiling photos in my LinkedIn posts.
First, I've always had the smile.  In fact, one of my early career performance reviews alluded to "too many smiles"… encouraging me to work on my business-like presence.  But I've also often been called "intense" by those who interact with me.
I frankly pride myself on both…the furrowed brow and set to the jaw along with the approachable and genuine smile.  Like many of you… I'm full of dichotomies.  There are different aspects of my persona that might seem to be at war with one another, but are entirely consistent with my authentic self.
I AM both intense and compassionate.
I can kick ass and be empathetic at the same time.
And while I coach people on discovering the joy in their work and their lives, eager to have them find their true spark… I do my most impactful work when we can acknowledge what's tough and how we get in our own way.
You sure wouldn't mistake me for a Pollyanna.  In a coaching relationship, I will hold you to account, lovingly but firmly.  And in relationships in general, I would FAR prefer a "heavy" dialogue that mines the depths of understanding and vulnerability one-on-one, than I would socialize more superficially with a larger group of people eager to "just have fun".  Susan Cain's book, offers a Bittersweet Quiz and yes, I score high on the quiz. It's a level she describes a "you're a true connoisseur of the place where light and dark meet". 

I wanted to share this notion as a layer of myself to my followers, connections and to anyone wondering whether they want to work with this smiling coach with all approachable-looking photos.  When you work with me, you get the full range of me.  I coach you metaphorically with my hand at your back and even holding you in a virtual hug, while at the same time solidly holding up a mirror to your face to confront the shadows. When we work together, we will work deeply.  We will include the bittersweet because relationships that include the "bittersweet" are the ones I value most and seek in my work and my life.
Receive New Blog Posts by Email