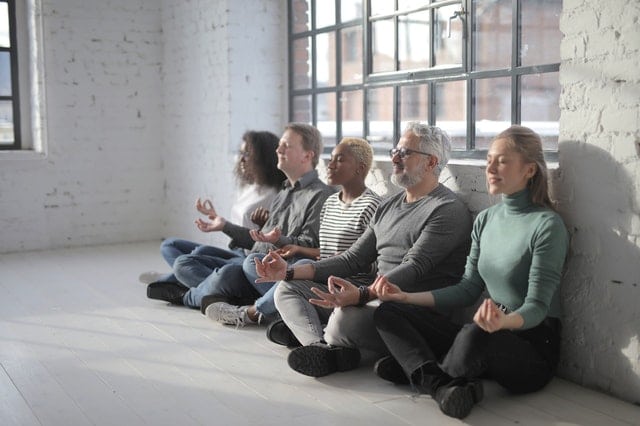 OK…so this image is a bit of a tongue-in-cheek metaphor for what team building sessions can become.  No disrespect intended.  I have led many a Team Building experience, which resulted in exactly what the client hoped to achieve.
Team Building often involves a one-off shared experience away from the regular work environment.  The goal?  Typically to have the team members get to know one another in a new way, have some fun together and to build trust.  Often, an assessment tool is used to gain insight into one another's unique strengths, and the team then engages in a shared challenging activity.  After some struggle, the team learns to accomplish the task by working in greater alignment, and seeing that better results are achieved when everyone in the team can contribute their best to the outcome. Trust is strengthened and the team leaves with the sense of being more united.
The effectiveness of Team Building is often assessed by the team members themselves— How much did they enjoy the experience?  What impact did they feel the experience had on their team member relationships?  Similar to a shared meditation exercise, a great team building experience will help the team to feel more relaxed and centred.
Team Building absolutely has its place. Especially when a Team is first being formed.
Team Coaching is wildly different.   It is a journey over time, to enable the team to create greater value for all the stakeholders— the team leader, the team itself, internal customers, external customers, shareholders, etc.  Team Coaching is performance focused.
Team coaching involves:
Engaging a trained, professional Team Coach to partner, over time, with the Team Leader and the Team— typically joining regular team meetings over the course of six to twelve months.
The coaching is real-time, working with the team on current workaday issues and team dynamics that arise during the work itself, versus case studies or "team building activities".
There is an emphasis on creating a "safe place" where everyone can contribute fully to the conversation.
With the expertise of the coach posing provocative questions and reflecting back their own dynamics to the team, even very difficult issues are addressed openly WITH the team (not in the hallway after the meeting).
Addressing how the team works together, as well as what the team accomplishes.
So, if you are a Team Leader who is interested in the hard work— real and sustainable work, to enhance the value that your team creates— take the time to research what kind of support will best serve your team.
A subsequent blog post will focus on the types of questions that can be useful for your exploration.
Receive New Blog Posts by Email