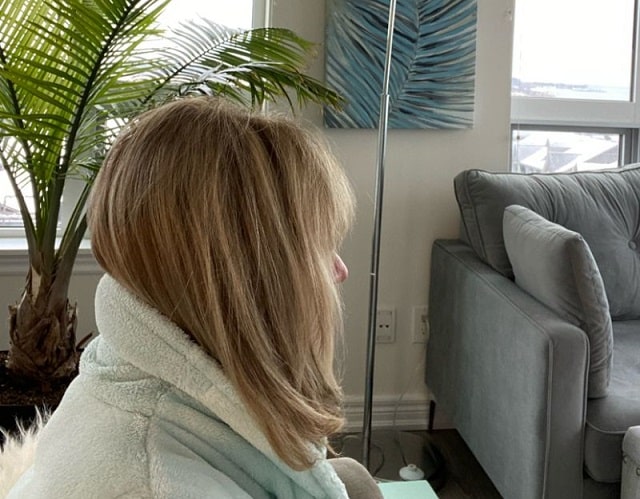 I used to listen to the news; that's how I'd start most of my days. The News Radio station would be on while I'd go through emails, making breakfast, and organizing my day.
I was essentially starting off my day by filling my brain with 𝙞𝙨𝙨𝙪𝙚𝙨 𝙖𝙣𝙙 𝙗𝙖𝙙 𝙣𝙚𝙬𝙨.
Since January 1st, though, I've changed-up my routine each morning.  I have been starting my day
sitting in a comfy bucket chair, with my bathrobe still on and my face directed toward the lake.  My eyes are closed, and a snuggly blanket is on my lap.
I use the Calm App for guided meditation.
Eventually, I may move on to just background ambient music or nature sounds, but for now, I'm less restless without a partly-guided meditation.
You might rightly challenge me by saying something like…"Oh worthy coach who no doubt has read countless empirical studies on the benefits of meditation… why are you just committing to this practice NOW⁉️"
To be honest, I've started before and then faltered.
I did pretty well…when the sun shone early in the morning on a summer's day and, perched on my balcony, I'd tell myself I was taking my vitamins by soaking in the D in the gentler morning rays.
Then a rainy day would come, and I'd just be itchy to get to work.
On other days I'd try the "two birds, one stone strategy" …Get my steps in and listen to a couple guided meditations at the same time.
Except I defeated my own purpose and was kidding myself. I ended up walking more slowly and was not quieting my mind in the way that was intended.
So, now I'm telling myself to max out the benefit and just savour the meditation time as it was meant to be.
After all… my goal is "wellbeing", not "accomplishment".  (I've been nailing focusing on "accomplishments" for more decades than I'd care to count). It's long past time I expanded my arsenal of skills.
Receive New Blog Posts by Email