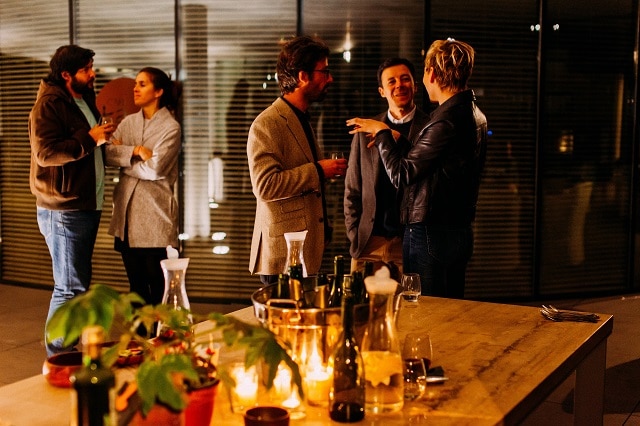 In Canada, it seems, this is the time of the year when colleagues, clients and suppliers can count on being able to actually connect. I don't mean times when they can squeeze in a meeting to accomplish a specific business transaction. I'm talking about actually getting together in a relaxed atmosphere where the focus is on "who" each person is, more than "what they need to get done."
Despite our vast diversity as a country, the Christmas holidays seem to have a prevalent impact on shared festive spirits. Holiday lunches are expected, and bosses rarely tap their watches when you return a bit late to the office. Parties are booked. Secret Santa games bring giggles. Many suppliers treat clients to special events and vice versa. The effect is wonderfully warm, and it only lasts about three weeks from the second week of December until just after New Year's.
How will you plan to ensure your work-oriented relationships will benefit from this spirit of sharing and connecting?
People who are typically purely business-focused in their workplace interactions often feel more comfortable sharing about their family holiday traditions and plans at this time of year. They'll also commiserate as human beings about the frenzy in the malls… trying to measure up to their Martha Stewart-like mother-in-law's holiday decorating standards… or tips for sourcing that impossible-to-find-but-every-child-wants-one toy on e-bay.
The December holidays needn't be a time for tiptoeing around cultural diversity and hosting events that leave some people feeling "left out." In the spirit of connecting, genuine interest in one another's ways of celebrating and honoring what is most important is the foundation for relationships. Fascination and open dialogue about uniqueness is a marvelous way of bridging differences.
What will you do to create opportunities to learn more about the cultural traditions of your colleagues?
The end of the year is also a time when new calendars are ordered, and recurrent meetings are not yet populated. It's a perfect time to get your dibs in for connection time during the early weeks of January, before regular meetings are back full force.
Here are some additional thoughts to consider:
We've all heard that most of our business typically comes from existing clients. What are your resolutions for building stronger connections with current customers and clients?
Where do your alliances need to be strengthened?
How can your relationships with peers benefit from greater connection?
Finally… what about the connections with your nearest and dearest? Stronger family and friendship connections have a spillover effect on our communities and workplaces, benefiting us all.
Happy connecting!
Receive New Blog Posts by Email